You see a lot of companies promise flat tummies and six pack abs. Be it workouts, pills, shakes, wraps, what have you…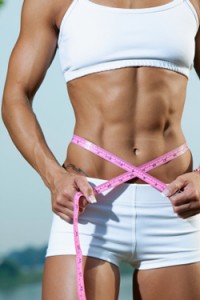 When I started my journey, having a six pack was everything I dreamed of! I did countless crunches and ab workouts. I could never achieve that tight muscular look. I could get skinny, but could not get those muscles to pop. I figured with all the focused ab training, there was NO WAY I didn't have muscle there. I want to share what I have learned so far….
I now know it is a difference of diet and body fat percentage.
Fact is, the women you see with tight bodies in fitness magazines and ads have prepped for those photo shoots. That is right, most don't walk around with a visible six pack.
Getting a chiseled six pack is attainable, but not typically sustainable. There are many myths and facts to getting that desired washboard stomach.
Myth: Doing a 1000 sit ups or crunches a day will get you a flat tummy and/or six pack.
This is false. If you have a surplus of body fat, you can spend your whole day doing crunches and will still not see the results you desire. That saying "Abs are made in the kitchen"…that is fact! Fat loss is plain and simple calorie deficit. Having your macros properly set up and sticking to them is how you will see visible abs.
Myth: You need special pills, shakes, or wraps.
No, but you can eat a balanced diet. Again, get your macros figured out and you will see the results you desire. It is all about your nutrition!!! In my opinion, if these products worked as well as they claimed, then everyone using them would look like fitness models from the neck down.
Myth: Only people with good genetics can have a six pack.
This couldn't be further from the truth. Neither of my parents were lean mean muscle machines ha ha ha and neither are most bodybuilders. Genetics will determine how your six pack will look, as far as your muscle structure, but it will not determine whether it is attainable. That comes down to discipline and hard work.
Fact: Don't stop doing core training.
No, ab training won't make you chiseled, but your abs are still a muscle. If you want to build them up, then core training is necessary. Granted if you do the main heavy lifts like squats, deadlifts, and bench press, then you are already working your core! 😉 There are a ton of stellar core workouts!!! Do your research and find out what you love best!
Fact: You can not spot reduce.
If it is your belly that you are looking to lean out, then understand that you have to lose everywhere. spot reduction just does not exist. I hear this a lot too…"I just need to work my lower abs" This actually doesn't exist either. Your abs are made up of four sections your Rectus Abdominis, Transverse Abdominis, then your Internal and External Obliques. Also "toning" you can gain muscle or lose muscle just as you can gain fat or lose fat. You can not "tone" a muscle and make a certain area of your body look tighter. To look tighter, again you just need to lose body fat.
Fact: It takes females longer to lose enough fat to see visible abs.
As I stated before, you have to be on a running calorie deficit for a long enough period of time to see visible abs. The amount of time and deficit varies depending on the individual. Basically, you must consume less calories than you burn.
Fact: Your body needs a ton of water!
Your body needs water to keep from bloating and to stay healthy. Make sure to keep your body well hydrated if you want to see results!!!
Fact: It takes time!!!!
Patience is definitely required. It is a process and not one that happens overnight. There is a reason you do not see a ton of people walking around with a chiseled midsection 😉 Discipline, patience, and determination.
Fact: A high protein diet helps you lean out!
I always recommend to add a protein shake or two to your daily nutrition.For a couple of reasons. One, it is a great sweet snack to keep you from binging on junk. Two, it is filling so you won't be hungry right away. And Three, lean protein sources have been proven to help you lose fat and gain lean muscle. This is very important in the battle of the bulge.
My favorite is Saturn Supplement's Smart Whey
It is delicious and not full of all the crap most powders o the market are. It has exactly what your body needs. From protein to the additional vitamins to keep your body well tuned.
Powered By Saturn Supplements


*References 
http://www.bodybuilding.com/fun/issa72.htm 
http://www.hoffmanfit.com/six-pack-abs-3-facts-you-must-understand/ 
http://www.shapefit.com/exercise/six-pack-abs-myths-vs-facts.html 
http://impossiblehq.com/5-common-myths-about-six-pack-abs