I don't know about you, but I am ready for the new year!!!
Before we start the new year, let's see how we ended the month of December….
Goal One ~ Christmas Dinner Menu. This one was a no brainer. We had an Italian Christmas that didn't disappoint. We made enough food to feed 3 families easy ha ha. I indulged way more than I should have, but enjoyed every morsel. It was prepared and cooked by all three of us. The photo really doesn't do the meal justice at all! We had lasagna, cheesy spinach balls, cheese stuffed sweet peppers, salad, Italian wedding soup, bruchetta, roasted garlic, cheesy spinach artichoke dip, tiramisu, french rhubarb pie, and amaretto coffee. Food babies for everyone ha ha ha 
Goal Two ~ Sharing Is Caring. We honestly did not make it out as much as we wanted to this month. We were able to give out a several care packages and a couple of blankets. We are restocking and gearing up to start hitting the streets some more. I am proud that Zoe is wanting to be so active in giving and we want to continue this goal year round. 
Goal Three ~ Enjoy The Holiday. As much as I would hate to go overboard and gain a bunch of weight, I really wanted to just have a stress free holiday. This was most definitely accomplished. I had originally planned on not tracking my macros on Christmas day. I decided to go ahead and not track any macros for the whole week. I was back on plan this week. I enjoyed the time off and because I stayed on track with my training, minimal weight was gained. The scale is actually going back down pretty quickly now that I am tracking again. I am learning to balance my training and diet. This has been somewhat of a struggle for me in past years. I either deprive myself and have a miserable holiday, or go WAY overboard and gain a ton in my off season ha ha. This will be the first year of a healthy balance. I am very happy so far! 
Goal Four ~ Study Study Study. I am nearing the end of this particular course. I will have finals coming up this month. I was grateful to have a week off for the holiday, but am back to studying hard this week! I am excited to start my new career path. I am happy to finally be able to start helping others who will be starting on their journey. I want to see others succeed!!!
Goal Five ~ Reverse Dieting Continued. I did great with this up until Christmas week ha ha. I am back on track now and will stay at the macros I am at to see where my body composition is at before making any changes. I would like to not allow my weight to go over 140lbs. My last off season I went well over that and ended between 160-165. It made for a very difficult prep. I was very laxed in my diet last year and hope to WILL be much better this year! 
Goal Six ~ Hypertrophy Training. I have adapted well to hypertrophy training. I am loving our gym! They have an abundance of not only free weights, but machines as well. Many that were not available to me in prior gyms in the other cities we have lived in. I definitely feel like I have made some small gains in the past 8 weeks and am excited to see what I can build this year!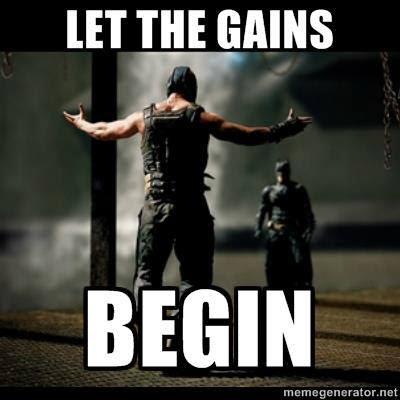 Goal Seven ~ Cardiorespiratory Training. This will be the first off season that I incorporate cardio. Last year I kept it in for a few weeks, but once I went into a full bulk I stopped. I am keeping it in this year to keep balance and keep the unwanted fat off. As much as I am not a huge fan, cardio has it's benefits. I have started a routine that I actually love on the step mill. I start with 3 mins warm up at level 2, then raise the speed to level 14 for 1 min, back down to level 4 and step sideways flexing each step each side for 1 min, back up to level 14 and cycle this 3 times, then back down to 2 for a cool down for 3 mins.
I am very happy with my goal assessment this month and VERY excited to set up my goals for next month!!! This past year has been crazy for my family, which is normal for us ha ha. I feel that 2016 will also be a crazy year, but in many different aspects. We have a lot on our plate for this upcoming year, but we already have a game plan on how we will accomplish our goals and we are ready for it!!! I know many are already setting the bar high for themselves in 2016. Annual resolutions are awesome, be sure to make them manageable and achievable. Setting small monthly goals will help you take the necessary small steps to accomplish what you set out to do this upcoming year. YOU CAN AND WILL DO IT THIS YEAR! Once you get that negative thought, sit down and think about everything you set out to accomplish. Remember the feeling you have right now about your goals. Reassess and keep pushing!!!
Happy New Year!!!
Powered By Saturn Supplements