Keeping yourself on track is one thing, but we owe it to our children to make sure that we are helping them make healthy choices as well. If we want our children to healthy and happy, it is our job to teach them.
With all the crazy snacks available and this being a digital age, it can be hard to get your children to make proper food choices and stay active. Here are some Fit Tips we use to keep Zoe on track.
One ~ Hydration ~ Many children, especially in the summer months, are not drinking enough WATER. Just as we need to be drinking a ton of water, so to our kiddos. If you buy a lot of flavored drinks like KoolAid, Soda, Juice, etc. it can be difficult to get your child to switch. What has worked for many of my clients, is to just stop buying the other stuff. Zoe has an occasional soda or juice, but she knows that her primary drink choice is water, so that is what she drinks. If you don't give them other options, then they will drink the water. Water is important. It maintains the balance of all your bodily fluids including digestion, absorption, circulation, transports nutrients, and maintains your body's temperature. It keeps your hair, skin, and nails healthy. Energizes your muscles, rids your body of toxins, and improves bowel function.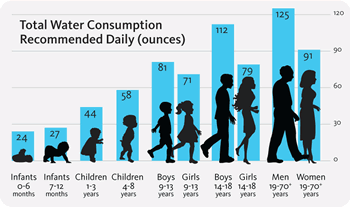 Two ~ Watch What They Eat ~ All too often parents buy snacks and meals that are quick, easy, and convenient. It may save you on time, but you aren't doing them any favors. I meal prep, not just for my hubs and I, but for the whole family. We buy fresh fruit and veggies for Zoe to snack on. In the summer we freeze berries, because they make a perfect hot weather snack, or she can use the frozen berries as ice to cool down her water. We try to keep whole food readily available for her to grab and go. When you stop buying all the pre-made processed foods and snacks, you spend about the same amount of money. The only difference is time. To make all the foods as convenient, you do have to set aside a food prep day. We do it as a family. It allows us to have a couple of hours together to talk and teaches Zoe how to safely prepare foods for herself.
Three ~ Protein Power ~ Like most adults I know, children often do not consume enough protein. Zoe went through a picky stage and didn't want to eat meat. Well at least not the meats I would deem healthy for her. She loves hotdogs and let's face it, they are much more fat than protein and not generally that healthy of a food choice. We opted to give her protein powder. We use Saturn's Smart Whey. It is a great tasting pure protein powder. I typically only have to give her half a serving. With kids I base their protein consumption at .5-1.0 grams per pound of body weight. Depending on age and activity level. With Zoe it is usually between .5-.75 grams. With Smart Whey we also make what we call protein pudding pops. Just mix 2 servings of Smart Whey with One package of instant pudding and a cup of milk, mix thoroughly, freeze in popsicle molds. Great healthy protein snack for you and the kiddos 😉
Four ~ Multi Vitamins ~ Even though Zoe eats healthy about 80% of the time, I still want to make sure she is getting all of her necessary vitamins and nutrients. She has been exclusively taking Saturn's Children's Yummy Vites since she was two years old. They are delicious, all natural gummie bears that keep her healthy and happy! Saturn is our family trusted brand. She loves her Yummy Vites and usually reminds me to give them to her in the morning! She never misses a dose ha ha.
Five ~ Get Moving ~ In this digital age, many kiddos are spending more time on the sofa , rather than outside. Sometimes to help kids get up and moving is to join them! When you are participating in the activities with them, they become more engaged. Too many parents are spending too much time staring at their phones or tablets too. Zoe and I do morning yoga together. We have since she was a baby. It is a bonding time for us. We also swim at the pool together and when I take her to the park, we play tag, slide, do relay races, etc. She loves that I get up and get moving with her. I love that it has her moving and getting enough exercise too!
Kids love activity, so get active with them!
For more information about reaching your goals, fit tips, and supplementation information, just CLICK HERE. Team SBSC is a family friendly online training program!!!
Powered By Saturn Supplements
These statements have not been evaluated by the Food & Drug Administration. This product is not intended to treat, cure, prevent or diagnose any disease.